By Justin Edwards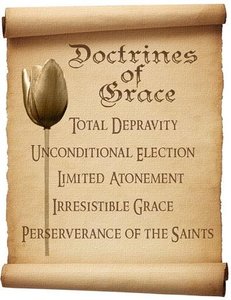 John Samson over at
Effectual Grace
has posted the first of a series inviting you to join him in walking through the doctrines of grace, commonly known as Calvinism. He begins by offering a quote from Dr. James White of
Alpha and Omega Ministries
:
What are the 'doctrines of grace' and why do they matter? Such is like asking, "What does the Bible teach about the very heart of the gospel, and does it matter one way or the other?" The doctrines of grace are the biblical teachings that define the goal and means of God's perfect work of redemption. They tell us that God is the one who saves, for His own glory, and freely. And they tell us that He does so only through Christ, only on the basis of His grace, only with the perfection that marks everything the Father, Son, and Spirit do. The doctrines of grace separate the Christian faith from the works-based religions of men. They direct us away from ourselves and solely to God's grace and mercy.
John goes on to say in the article:
Over the next few weeks, I will (God willing) be posting a video session here on the blog every 4 or 5 days or so, hoping that will give you enough time to watch each session. Then, once you have done so, I would invite you to write a comment here to let others know what the video teaching is doing for you in terms of your understanding of the Scriptures and in your walk with the Lord. Would you come with me on this journey?

I love learning more about the Lord, about His Word, and especially about the amazing grace of God. If you feel the same way, I think this could be a lot of fun, especially if we can show kindness and gentleness to one another (even if ultimately we may disagree). We can disagree without being disagreeable. Yet, if this can be a safe place where people can make their comments in the right spirit, showing respect for one another, this can be a richly rewarding adventure of discovery for us all. The idea has exciting potential, I think.
I think John is doing a marvelous thing by providing a safe environment to discuss the sovereignty of God and grow more in love with His effectual grace. Surely this will greatly edify the Body of Christ and help us all grow in the knowledge and grace of our Lord.
I encourage you to join me in this invitation. Check out his first post,
TULIP (1)
, to read the entire article and view the first video installment with
Dr. John Piper
. And don't forget to tell others. :)
May God be glorified through this endeavor!